Latest project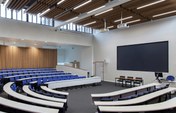 Thorn Luminaires add a fresh look to the newly refurbished City, University of London
Thorn Lighting has helped Avtrade to light their contemporary, sustainable new global headquarters incorporating transport and warehousing facilities, in Sussex
Darlington Borough Council are Streets Ahead with Thorn's CiviTEQ Lanterns
CASE STUDIES BY APPLICATION
Lighting for transit areas and car parks is essential for public safety. Aside from safety and visibility concerns, energy efficiency is important for minimising running costs. The projects here demonstrate how lighting which balances performance, efficiency and comfort can transform the associated outdoor and indoor environments.
From care homes to barracks to prisons, lighting for residential purposes requires smart, dependable solutions. Performance, efficiency, comfort, aesthetics, safety and flexibility are all important. The projects here demonstrate how lighting can be applied to meet a range of demands while providing a pleasant environment for residents.
Across the world we are seeing more and more examples of smart city transformation. Cities start using different types of electronic data collection to supply information used to manage assets and resources efficiently. As far as outdoor lighting for cities is concerned, it is not just the light that is important but also adapting the light to meet the actual requirements in specific situations. These projects demonstrate how intelligent light responds to the individual needs of the urban environment.