Designed with people in mind
Feb 24, 2021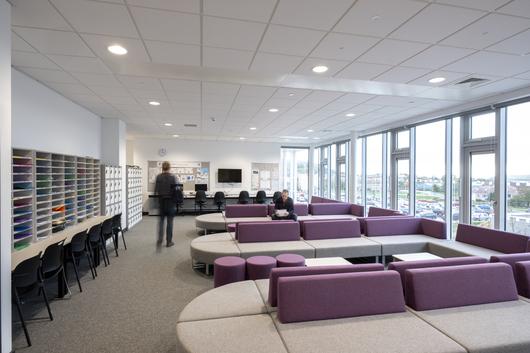 Over recent year's research surrounding education has discovered that people need a learning environment that supports the fluctuations in energy, levels of concentration and the ability to think creatively. So, when creating a lighting design and plan today it has to be a dynamic lighting solution in order to meet these needs.  
Visual leaners, which accounts for 65 % of the population, especially require the correct lighting to support their development. The right light is important in creating effective environments to enable visual learning to take place, for example when reading information, drawing or engaging in visual communication. The right colour temperature and light level contributes to creating a pleasant and optimal environment that promotes curiosity and creativity – this is a dynamic learning environment.
To create a dynamic learning environment Thorn recommends using their Variable Colour Temperature (VCT) solution. This 'light for the people" solutions works by adjusting the colour temperature of the light throughout the day. By doing this it helps students and teachers to stay focused and to process information.
Variable Colour Temperature (VCT)
The Variable Colour Temperature (VCT) technology uses high-quality LEDs to tune colour temperature
from a warm 2700K up to a very cool 6500K. The VCT functionality is best used in combination
with the basicDIM Wireless app or via lighting management systems with DALI DT8.
The system can also be managed through a wireless interface switch to improve the comfort of those in a learning space, without adding additional work to the teaching and facility maintenance staff.  
Designed to help
The VCT solution from Thorn can be used to design a dynamic education environment and to help teacher and staff throughout the day. The lighting settings can be made according the function of a room at a certain time. Here are our suggestions;
Focus: Set to 4000K
The Focus setting can be used for regular classroom activities and when children have to concentrate, such as for tests or reading activities.
Energy: Set to 5700K
The Energy setting is designed for use during times of day when students experience a reduction in energy, usually in the mid-morning and after lunch.
Calm: Set to 2700K
The Calm setting is designed for group activities requiring cooperation or supporting the students to settle down when students can be overactive.
Social: Set to 3500K
The Social setting can be enabled for when classes change over and for the breaks throughout the day.
Programmable performance and savings
In additional to enhancing a learning space and tailoring a working environment the VCT solution can also be a useful tool to set the lighting to come on/off at certain times of the day/week, when linked to a detection sensor.
When used with theses sensors the lights can be turned off when a space is not in use and easily re reactivated once a classroom or break out space is occupied.
The VCT functionality is best used in combination with our basicDIM Wireless app or via lighting management systems with DALI DT8.
Be future proofed
The basicDIM Wireless is a control with Casambi Bluetooth technology that consists of wireless-ready luminaires and an app. For this purpose, there is only a wireless wall switch and/or a sensor required.
The only thing you need is power for your luminaires. No extra wiring is required to enable an ease of installation. Whether you want to rearrange your lighting, add luminaires or move to another location – basicDIM Wireless constantly adapts to your requirements.
The new solution, and therefore the classrooms can be future proofed thanks to the inclusion and implementation of a wireless technology. Bluetooth enables the class rooms of tomorrow, today.
← Back to overview