Thorn makes Derby Arena an inviting and motivating place to participate in sport
Aug 23, 2016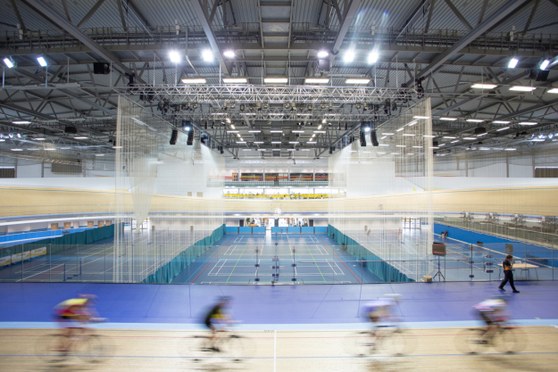 Derby Arena is a state-of-the-art, 14,500m² multi-use arena and velodrome situated next to Pride Park Stadium. It includes a national standard 250m indoor cycling track, a sports infield the size of 12 badminton courts and a fitness centre, café and meeting and conferencing rooms.  The track is encircled by a lower tier of 3,000 spectator seating with two additional banks of 1,500 seats that form the upper seating tiers which face the two straight sections of track. The main concourse separates the upper and lower seating tiers. This futuristic arena boasts the fifth national standard 250m indoor cycling track in the UK and can host a variety of sports including badminton, basketball, netball, volleyball and martial arts (all which can be played by wheelchair users). It is also used for events ranging from family pantomimes to classic car shows, whilst the 250m velodrome track is the Midlands' brand new hub for track cycling.
Thorn's Mundial 1KW and Troika 400W floodlights illuminate the velodrome track, which also benefits from three light switching levels of 600 lux, 300 lux and 100 lux to efficiently meet the lighting requirements for its varying uses, which range from competition to training.  Mundial is a high power floodlight for sport and large area illumination applications while Troika is an asymmetric 'flat glass' floodlight with four different light distributions for each lamp option and a broad selection of attachments.  Thorn's luminaires provide the required colour temperature of 5600K, a colour rendering index of 90 and uniformity level of 0.76 and all of the track floodlights are tilted no higher than 65° for good glare control.
Titus Sport, a robust dedicated sports hall luminaire with T16 (T5) fluorescent lamps, has been used to illuminate the infield sports area, providing an illuminance level of 500 lux and uniformity ranging from 0.8 to 0.95. The infield area also has separate switching to accommodate the volleyball, basketball and badminton courts. Not only does this save energy by only using the required lighting but it also provides more focus for players and spectators. The switching arrangement is specifically positioned to accommodate the demands of each field of play and sporting activity, ensuring lighting is appropriate and comfortable for players. This is particularly important for overhead sports such as badminton as overhead lighting would cause glare and discomfort.
The indoor areas of the facility have been illuminated using Impact force, a high performance, IP65, impact resistant luminaire with a GRP canopy, Piazza, a stylish, robust, wall mounted vandal resistant luminaire and Duoproof, a sealed, IP65 rated, recessed fluorescent luminaire with welded frame corners that provide a smooth and easy to clean surface.
Chris Pilkington of Derry Building Services commented 'Set up and completion was carried out in a very professional and considered manner. The lighting is extremely well suited to the particular challenges of lighting a modern world class velodrome and sporting facility".
← Back to overview