The latest product launches from THORN
Nov 02, 2020
EDITION 2/2020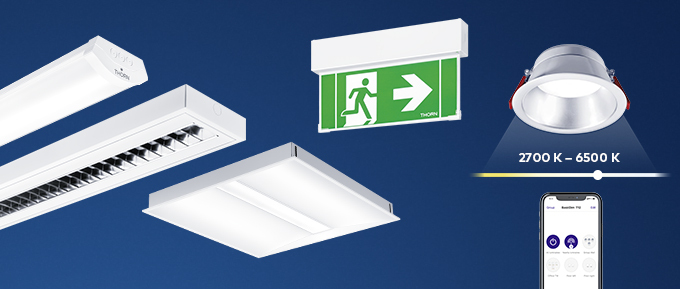 We are officially in the last quarter of 2020 which means more new and exciting products are now available from Thorn Lighting. The new Punch and Voyager Blade 2 are two innovative luminaires for office and emergency lighting applications. Furthermore, VCT (Variable Colour Temperature) technology is available  for these products to help you easily transform your space directly on your smartphone. Our new Diffusalux luminaire is suitable for both horizontal and vertical mounting and is a direct replacement for conventional battens. It's body's wide design make it ideal for refurbishment projects. Our new IQ Beam linear recessed ceiling luminaire combines intelligent design features with micro-prismatic optics, it is a brilliant enhancement for wide variety of applications – from office environments to far-reaching secondary spaces.
Punch - Pure value in a classic design

Punch is a timeless luminaire that brings back a classic and simple design paired with the latest technology. Available in two lengths and various installation options, Punch offers full design flexibility for offices and educational facilities.

Voyager Blade 2 – your choice of a sleek & slim emergency luminaire

One luminaire, several mounting options. This new emergency luminaire ensures all safety standards are met without compromising on design or quality. For extended flexibility, all pictograms (Up, Left, Right, Down) are included with delivery.

VCT Technology – tune the colour of light and transform the space

VCT (Variable Colour Temperature) allows you to adjust colour temperatures manually or automatically to suit your mood and requirements. And everything can be easily managed with our basicDIM Wireless app or via lighting management systems with DALI DT8. VCT is available for Chalice, Omega Pro 2 as well as Altis.

Diffusalux – Simplicity taken to a new level

Diffusalux is a stylish, high-performance replacement for conventional battens. The luminaire's curved opal diffuser is made from tough polycarbonate and provides high quality lighting control. The internal diffuser features a distinctive ridged pattern that ensures soft, uniform illumination.

IQ Beam – Linear recessed ceiling brilliance

IQ Beam combines intelligent design features with micro-prismatic optics. The recessed ceiling luminaire is a brilliant enhancement for a wide-range of applications. Available with two diffuser optics and three lumen packages with up to 4300 lm, IQ Beam is suitable for a diverse range of environments.

Product updates
The Omega Pro 2 CKIT+ emergency is an advanced central battery solution providing one installation point and minimising the battery dimensions. Omega Pro 2 CKIT+ PIR has a new presence detector called SENS, which can be directly wired with our LITECOM lighting management system. The Omega Pro 2 Q300 is the small version of the Omega and features a new product design with a 90° corner, as well as, pre-wiring options for additional installation comfort. PopPackrange has been extended to include several new options like the 600mm batten for limited spaces, the corridor function which enables additional energy saving and the integrated emergency E3D with DALI interface for central monitoring or self-testing. Altis RGBW and VCT now complete the Altisrange with the option of RGBW colour and Variable Colour Temperature VCT.
← Back to overview